Since its inception, Identity.com has focused on delivering a decentralized platform, which opens up access to on-demand, secure identity verification. Identity.com is designed to connect users, requesters, and validators around the world with reusable identity attestations on the blockchain, in an ecosystem powered exclusively by Civic tokens (CVCs). With reusable attestations, individuals, companies, and other entities are empowered to interact more easily and safely in the digital world.
Identity.com, the Identity Verification Ecosystem
At the time of Civic's token sale, the company shared its plan to develop a fully decentralized, open-source identity ecosystem. Today, with smart contracts, new software applications introduced by Civic (for example, the Civic Wallet) and others, and enabled by CVCs, the ecosystem allows participants to achieve seamless and secure identity exchanges. After the token sale in 2017, Civic further cemented the stand-alone and independent nature of the identity ecosystem by forming Identity.com, an independent 501(c)(4) nonprofit organization.
Identity.com provides the framework and transactional rails for an innovative blockchain-based approach to sharing elements of identity. This model allows for the efficient and secure verification of previously validated personally identifiable information (PII) by third parties without the need to share the underlying PII between those parties, leaving the user in control over their personal data.
The ecosystem is designed to incentivize participation by trustworthy identity verification providers known as Validators, which verify the identity of a person or business, known as a User. Validators may include financial institutions, government entities, and others. Validators "stamp" the (issued) identity verification approval on the blockchain in the form of a record known as an attestation. Parties known as Requesters, which are service providers seeking to authenticate the identity of a User, may leverage the identity validation work of Validators, at a lower ongoing cost.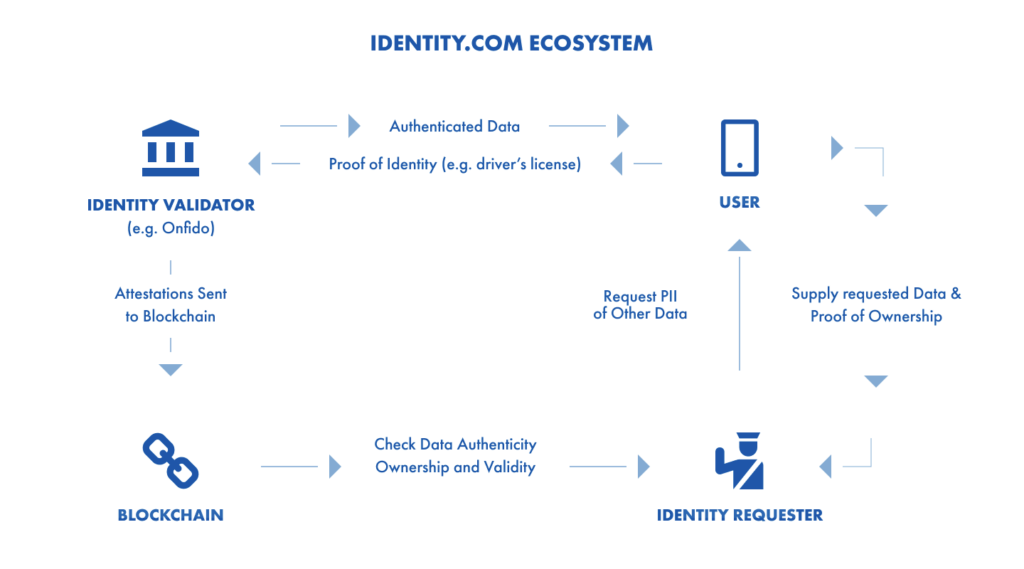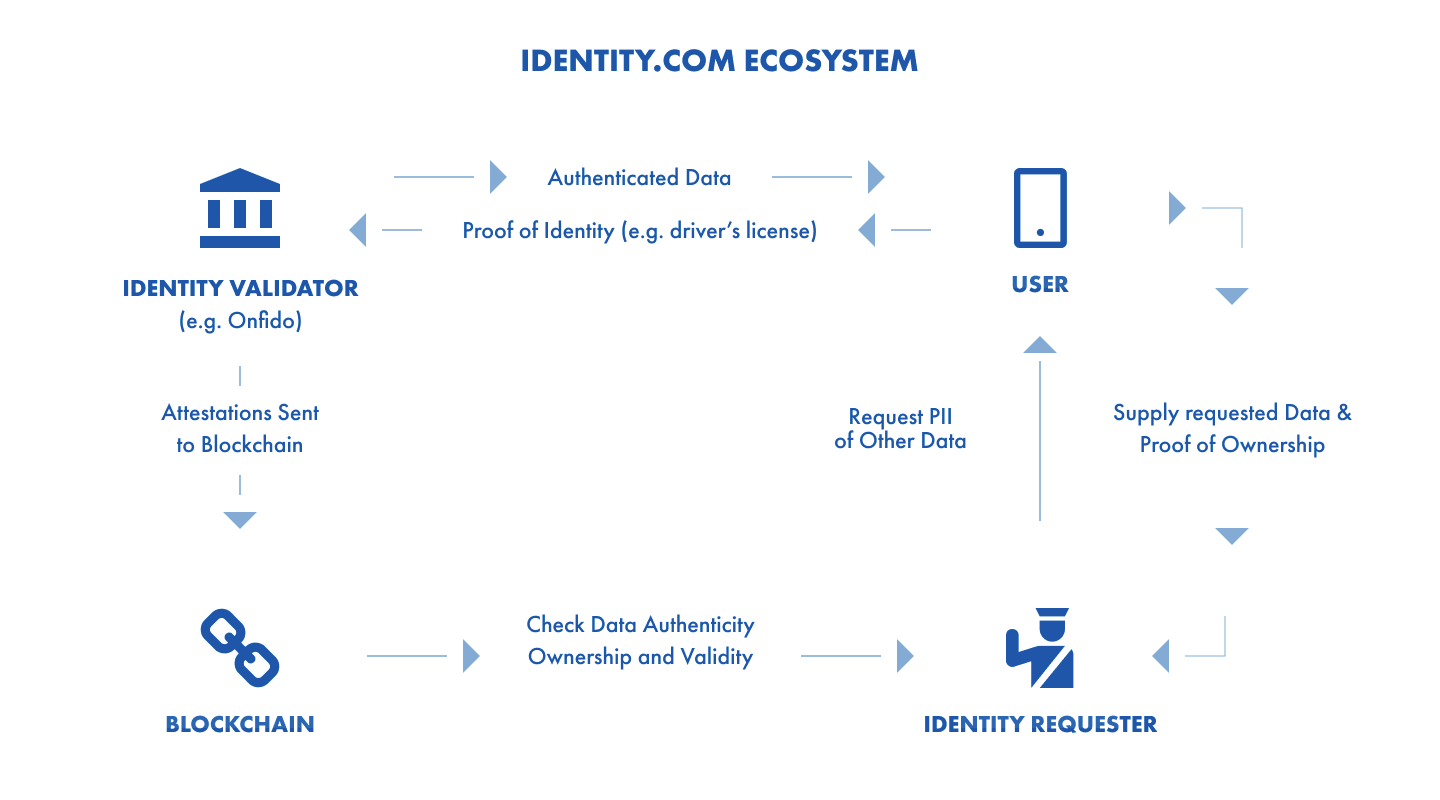 Token-Based API
Identity.com uses Bitcoin-compatible blockchain as an attestation trust anchor and Ethereum to operate the Identity.com Marketplace for discovering and trading credentials. Because of this, the ecosystem is safer, more open, and more accessible.
Smart contracts enable Validators to receive payment every time the User exchanges an attestation with a Requester, even though the Validator only needed to validate the information once. Requesters may select from multiple Validators offering attestations based on price, suitability for their goals, or even in a one on one trusted relationship framework. Once the Requester and User sign off on the transaction via the smart contract system, the Requester pays the Validator in CVC.
Civic Wallet
Last July, Civic announced that it planned to build a consumer digital wallet leveraging the Identity.com token-based API. The Civic Wallet will be launching to a private group of waitlisted users soon, before the public launch in the new year. By coupling identity with other features, this wallet will, eventually in future product versions, allow users to transact using traditional and cryptocurrencies more securely and easily than with other wallets.
There are many use cases for identity, and Civic has found a strong niche among the cryptocurrency community. After surveying some of the thousands of pre-registrants for the Civic Wallet, Civic found that crypto users want to more easily grow their money (for example, with high yield accounts), transact with their money (for example, in a peer to peer or point of sale context), and would like to ensure robust security related to their assets while still having access to a broad range of products and services. Because the cryptocurrency space is inherently risky, these community members are always on the lookout for solutions that better protect their information and their money. Civic, leveraging the Identity.com ecosystem, will provide the kind of multi-layered security that this community cares about the most.
This blockchain-driven approach to identity is naturally being applied to the most relevant use cases in the cryptocurrency space. Civic, by building the Civic Wallet and connecting cryptocurrency users with a safer gateway to accessing their money, is bringing the Identity.com ecosystem to life and building out the vision of its token sale.
A look forward
With 2020 right around the corner, Identity.com will continue to build out our network ecosystem including new validators, new requesters and more. Additionally, we are beginning to develop the roadmap of our next-generation business use cases, and are excited to share more with you soon. Our ecosystem will continue to gain momentum as Civic Wallet grows within the marketplace.