Organizations and the Irony of Data Privacy
The daily news is filled with alarming stories about data breaches. As a result of users' experiences and complaints, "data privacy" has become synonymous with "data breaches" in recent years. It is deeply concerning that identity theft and fraud are on the rise, yet companies continue to collect data freely.
Despite the claims that governments use the same data for "investigations and maintaining law and order", some businesses collect user data for marketing purposes. However, news reports have repeatedly exposed the misuse of user data, leading users to lose confidence in government agencies and organizations. As a result of these entities mishandling data, data breaches have increased over time. Some organizations have exploited this privilege for financial gain by acting as data custodians. A prominent example of this unfortunate reality is the Facebook scandal during the 2016 US elections.
Discussions are taking place on online forums, seminars are happening, and Congress is enacting regulations concerning data privacy.
These activities serve as a reminder of the critical importance of this issue in our daily lives. However, a new contender, known as "blockchain," has emerged on the scene. Can blockchain technology introduce new possibilities and redefine the protection of users' data? This article offers a concise examination of blockchain's impact on data privacy. Take a moment to dive into it and feel free to share it with others.
What is Blockchain?
A blockchain is a distributed ledger that keeps an ever-growing list of ordered records, known as blocks. These blocks are connected via cryptography, creating a chain of blocks. Each block contains the previous block's cryptographic hash, a timestamp, and transaction data. In more technical terms, a blockchain is a decentralized, distributed, and public digital ledger used to record data or transactions across multiple computers in a manner that prevents alteration of the record without impacting all subsequent blocks.
The blockchain serves as the foundation for cryptocurrency, which is one of the most well-known applications of this unique technology. However, blockchain's application extends beyond cryptocurrency to different sectors, including finance, healthcare, data management, gaming, governance, and many more. This article aims to provide a brief overview of the impact of blockchain on data privacy, but before we proceed, let's define data privacy.
What is Data Privacy?
In the internet ecosystem, data privacy refers to the protection of information. It involves safeguarding users' data from privacy infringements, data theft, and other potential risks. The significance of data privacy stems from its constant discussion and the need for its effective implementation, particularly when it concerns sensitive data like personally identifiable information.
The internet landscape is filled with various platforms, apps, and websites that cater to end users. Many of these platforms adopt a "freemium" business model, offering their services at no cost. However, it is important to realize that when a business or platform provides free services, the users often become the product. Their data is what sustains the platforms' existence. Prominent examples such as Facebook, Instagram, Google, and Twitter thrive on leveraging user data for profit generation. As we witness the abuse of privilege by some of these tech giants and the rise of numerous platforms like TikTok, the importance of data privacy becomes even more apparent. It should not be limited to social media-related enterprises but must extend to all organizations that handle users' data.
Blockchain Core Concepts and Their Impact on Data Privacy
Below are the core concepts of blockchain technology that can positively impact data privacy:
Decentralization

Consensus Mechanisms

Transparency

Immutability

Cryptography

Smart Contracts
The impact of blockchain technology on data privacy stems from its inherent characteristics, as outlined above. By understanding these core concepts, we can gain a better grasp of how blockchain can contribute to data privacy protection.
1. Decentralization
Data privacy breaches mostly occur because data is usually concentrated in a single database or a few databases with known locations. This is where blockchain differs, as it operates on a decentralized network of computers, known as nodes. This unique operational structure across numerous computers simultaneously ensures that no single entity has complete control over users' data.
Decentralization solves the primary problem by removing control power from a single entity, making unauthorized access to users' data a more complex adventure. With blockchain technology, consensus is needed to access this data. Consensus implies that other users or stakeholders must agree to the request before the requesting party can gain access. This way, access is not granted in secrecy, as the system will record the node that sent the request.
2. Consensus Mechanisms
There are different types of consensus mechanisms, but they all have one goal: to shift power from a central controlling unit, as seen in traditional data management, to decentralized stakeholders. This consensus system maintains the integrity of the system. To prevent bad actors from distorting the data, these systems require a majority of participants to agree on the authenticity of transactions. By ensuring consensus, only permitted updates to the blockchain are made, improving data privacy. In other words, without consensus, data will not be edited, deleted, or added.
3. Transparency
The record of activities surrounding the data or database is transparent. This transparency enables all participants (stakeholders) in the network (node) to view and validate the transactions, thereby guaranteeing that no data alterations occur without consensus. Blockchain's transparency feature seems counter-intuitive, but its application is a game changer in data management. Some use it in a way that it reveals partial, non-sensitive data, while others use it with zero-knowledge proof, i.e., disclosing no user data. Developers also use this transparency feature to monitor the activities of those responsible for protecting users' data.  Instead of storing users' data on the blockchain, this later application uses the blockchain as a gateway. In this manner, neither sensitive nor non-sensitive data is disclosed, but the activities of stakeholders concerning their access and modification of the data are.
4. Immutability
This characteristic of blockchain ensures data integrity by preventing tampering and making data stored by blockchain nearly impossible to alter. Theoretically speaking, stored data can't be altered.
5. Cryptography
Blockchain uses encryption techniques and hashing algorithms to provide secure data storage, access, modification, and transmission. This feature alone makes hacking more complex, as it is a more advanced security layer. Advanced cryptographic algorithms are part of the security architecture, which requires participants in the network to have cryptographic keys for authorization.
6. Smart Contracts
Blockchain technology supports smart contracts, which are computer codes that trigger an automatic execution or action when agreed-upon terms and conditions are met. Smart contracts contain pre-defined instructions, which the code, program, or software automatically carries out once the involved parties (persons) have complied with the attached conditions. Smart contracts can automatically enforce privacy standards, data access limits, and permission settings. This ensures that sensitive information is only accessible to authorized parties. Users can also use it to request the deletion or modification of their data. If the user making the request fulfills the specified conditions, the request will be carried out.
How Blockchain Will Reshape Data Privacy
The concept of blockchain, as detailed above, can be seen in practical terms in the following areas:
Data Ownership and Control

The Burden of Storage Facility

User Consent Management

Data Monetization

Data Integrity and Auditability

Private Records and Transactions
Below is a breakdown of how blockchain impacts data storage, access, transmission, and monetization. It further shows its potential to reshape the data management ecosystem in a way we've never seen before.
Data Ownership and Control
Traditionally, companies and online platforms have acted as custodians of users' data, collecting and storing it in their databases. For users to access their collected personal data, they have to go through servers. By doing this, the users lose total control over their data, since the online platforms appear to be the sole owners of their data. However, blockchain gives control of data to users, including full ownership of data. Users can create their identities using verifiable credentials (VCs) and self-sovereign identity solutions. They can decide to save these created identities and other personal data on a digital wallet of choice. Blockchain technology drives all of these processes.
The Burden of Storage Facility
While data collection offers significant advantages to companies, it also carries a substantial burden in terms of data storage. Companies are responsible for ensuring the security of all the data they collect. Typically, data is stored in distributed databases to enable multiple duplications, which serves as a safeguard in case files are lost from a specific data source. Additionally, this distributed storage system facilitates faster access to data based on the location of users interacting with the server or sending data requests. However, managing this data storage can be a costly endeavor, particularly as the volume of collected data grows exponentially.
Blockchain revolutionizes data storage by enabling users to store their data in decentralized databases. In the meantime, online platforms that need users' data are considered third parties. They receive permission to access the required data as needed, which optimizes data security and user control. This approach transfers the responsibility of data storage from online platforms to the users. In our article on Web 5, we explored the role of blockchain in establishing connections between various components of the decentralized web. These components include decentralized web nodes (DWNs), peer-to-peer networks (P2P), decentralized identifiers (DIDs), and decentralized web apps (DWAs). These components work together to form a cohesive system where users can host their own data, and online platforms must request permission to access and use this data. This innovative ecosystem empowers individuals with data ownership and full control, thereby promoting data privacy.
User Consent Management
Since users can self-host their data, online platforms seek permission for each piece of data or credential they need. This is not a complex operation; it will be similar to installed apps on mobile devices seeking permission to access a phone's local storage. If you own a mobile device, you must have seen this work. For example, if you want to upload a picture on Whatsapp for the first time, your phone will ask if you want to allow or grant such a request.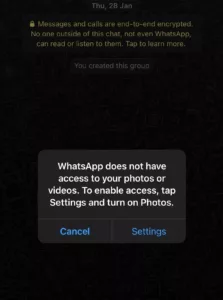 Smart contracts and decentralized ledger technology help individuals achieve the above. These technologies allow users to define and enforce their privacy preferences, giving them the authority to grant access to organizations, services, and online platforms. Note that users can grant and revoke access at their will.

Data Monetization
Organizations need data, and the impact of blockchain on data privacy will cause some online services to go out of business as they can't survive without data. The importance of data is to create a new market for data monetization. In this emerging market, users can allow trusted third parties to access their data for monetary compensation or other forms of reward, all while still maintaining their privacy.

Data Integrity and Auditability
The immutability and transparency features of blockchain enable data integrity and auditability. These aspects have significant benefits for industries that require proof of data integrity prior to taking essential actions. Moreover, they enable the access and validation of users' data, which can be valuable for data monetization purposes. Various sectors, including healthcare, supply chain management, and financial auditing, stand to gain from this impact.
Private Records and Transactions
The transparency of blockchain and its method of publicly storing records contribute to its credibility, effectively eliminating any form of secrecy or shadiness. However, many blockchain technologies in recent years have addressed these areas regarding data privacy, one of which is zero-knowledge proof. This cryptographic development makes records private while supporting information or data confirmation, but without exposing sensitive data.
The Future of Blockchain and Data Privacy
Zero-knowledge proofs and other technological developments in the blockchain field are transforming the data privacy landscape of the digital world. These innovations address the ongoing concerns of users who have experienced data misuse by tech giants. With these advancements, users stand a better chance at increased privacy while still accessing services and applications. As blockchain adoption increases, these developments will affect the system and potentially bring the long-awaited revolution expected in the data sector. However, until then, regulations like CPRA and GDPR will be the 'watchmen' protecting users' data and bringing offenders to book.
Identity.com: Embracing Blockchain-Based Identity Solutions
As an identity-focused blockchain company, we value privacy-preserving technologies. This is one of the reasons why we embrace blockchain. As a company, we develop and build identity management systems based on blockchain as the foundation, focusing on keeping users' privacy private. We contribute to a more user-centric future via identity management systems and protocols. We also belong to the World Wide Web Consortium (W3C), the standards body for the World Wide Web.

The work of Identity.com as a future-oriented company is helping many businesses by giving their customers a hassle-free identity verification process. Identity.com is an open-source ecosystem providing access to on-chain and secure identity verification. Our solutions improve the user experience and reduce onboarding friction through reusable and interoperable gateway passes. Please get in touch for more info about how we can help you with identity verification and general KYC processes.