When you're online, you may think you control your digital identity. However, big companies like Google and Facebook know your name, email, and sometimes even your location. They keep all this data for themselves, using it however they want. This is a big problem with today's online identity systems, which let these companies store and control your data on their central servers. But a new solution, called self-sovereign identity (SSI), is here to change this. It aims to give users full control over their own digital information, taking power away from big tech companies.
What Is Self-Sovereign Identity (SSI)?
Self-sovereign Identity (SSI) is an emerging technology that aims to revolutionize the digital identity ecosystem. SSI offers users full control over the storage and management of their identity and digital footprints, distinguishing it from traditional centralized databases. With SSI, you can control your information and dictate how much of it is released to websites, apps, or services. This level of control safeguards you from massive centralized server hacks that often lead to identity theft and fraud.
A major advantage of SSI is that it enables users to use their smartphones as a digital ID wallet that stores their identities and personal information. This facilitates easy access to personal data at any time, turning your smartphone into a digital ID card containing various verification credentials. Despite these significant advancements, concerns about the security of SSI and its potential misuse have been raised. To understand why these concerns are largely unfounded, continue reading.
Why The Need For SSI Is Non-Negotiable
Data stored in a centralized system is vulnerable to hacking and can be unreliable when needed the most. Moreover, it takes longer to verify credentials, resulting in an increased number of fake IDs and unchecked certifications. However, self-sovereign identity (SSI) is solving these problems and more. It's not just about handing control of data back to users.
Presently, credentials require users to retrieve an ID from their wallets to access services that require verification. However, ensuring the authenticity of an ID can be challenging. Some organizations attempt to verify IDs' validity through central online databases, but this becomes impossible in the absence of an internet connection or when the website/server is inaccessible. As a result, vendors or entities may have no choice but to accept an ID, hoping it is valid.
These situations occur frequently, leading to the unnoticed presence of fake credentials. In the worst-case scenario, a database responsible for ID authentication can be hacked, introducing more fake IDs and compromising the central server or database.
Transforming the Identity Landscape
Federated identity management, handled by government-centralized systems and tech giants such as Facebook, Twitter, and Instagram, is contributing to the rise in fake IDs, identity theft, and identity fraud. SSI is revolutionizing the identity ecosystem, which is estimated to be worth one billion dollars in 2024. Several industry experts predict it will become the next trillion-dollar market within a few years. However, concerns about its security have been raised. The frameworks that make up self-sovereign identity, known as the pillars of SSI, are proving to be a secure solution to combat the global identity theft epidemic, which is worth billions of dollars.
The Pillars of Self-Sovereign Identity (SSI)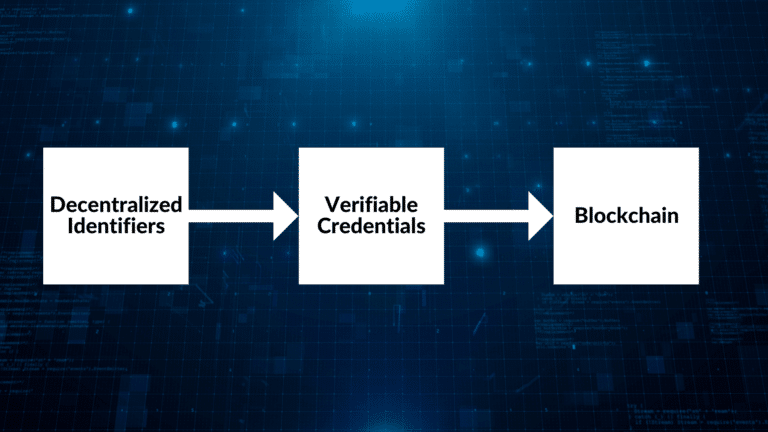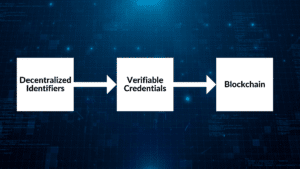 Digital identity encompasses any traceable data or internet footprint associated with an individual or entity. While centralized identity management allows easy tracing of data, SSI utilizes users' information in unrelated patterns, enhancing privacy. SSI's three pillars actively contribute to the creation of fraud-proof identity and credentials. The technology behind SSI is highly unique, ensuring that credentials remain tamper-proof while avoiding centralized storage. Additionally, the owner's real-world identity can be easily verified through a blockchain-powered Uniform Resource Identifier (URI), called Decentralized Identifiers (DIDs). Below are the three pillars of SSI:
Decentralized Identifier (DIDs)

Verifiable Credentials (VCs)

Blockchain
Decentralized Identifiers (DIDs)
DIDs, or Decentralized Identifiers, are a type of Uniform Resource Identifier (URI) that are globally unique and built on decentralized databases. DIDs, unlike third-party identifiers that rely on centralized databases, operate on the decentralized blockchain framework. This allows for individual identification and verification on the blockchain, eliminating the need for a central authority.
One of the key features of DIDs is that they are based on encryption and decryption technology, making them cryptographically verifiable. Furthermore, DIDs do not contain any personally identifiable information (PII), which enhances privacy and security. DIDs are created, owned, and controlled by users and are independent of any organization. Check out this extensive article about Decentralized Identifiers (DIDs).
Verifiable Credentials (VCs)
Verifiable credentials (VCs) offer a more secure and tamper-evident means of digital credential presentation than simply converting physical copies into digital copies. VCs rely on digital signatures for ensuring validity and authenticity. This means they cannot be forged or faked without proof of tampering, making them highly secure.
VCs can be presented to organizations or verifiers as a new form of digital credential.
The validity and authenticity of VCs can be verified directly from the issuer within seconds. This makes them a highly efficient means of digital credential verification. The ecosystem known as the "trust triangle of verifiable credentials" or the "three participants of SSI" oversees the issuance, validity, and authenticity of verifiable credentials. This ecosystem includes the holder, issuer, and verifier, all of whom play a critical role in ensuring the security and authenticity of VCs. To learn more about verifiable credentials, check out this extensive article.
Blockchain
Verifiable credentials and decentralized identifiers closely connects with blockchain technology. This makes self-sovereign identity (SSI) secure, private, and accessible anywhere and anytime. Blockchain is a decentralized database or ledger shared across a network of computers globally, known as a blockchain network. Each computer in the network is known as a node, and together they form a continuously active network that records information in a dispersed manner.
The blockchain system is an excellent example of a distributed ledger technology (DLT) because it is impossible to alter data stored on a blockchain through the backdoor. This is due to the blockchain system's design, which makes it impossible to hack or cheat the system, even with the most powerful supercomputer in the world. This is because you would have to hack all the connected nodes of thousands of computers scattered globally, which is practically impossible.
Information on the blockchain is stored in blocks. Each block contains information about the previous block, known as a "cryptographic hash," as well as a timestamp and transaction data. These pieces of information are verified through computing before being added to the existing blocks. Adding new blocks to the previous blocks forms a chain of blocks, hence the name "blockchain." The information stored in these blocks is immutable and cannot be backdated, denied, or destroyed. Blockchain technology is the foundation for self-sovereign identity (SSI), making it the best development for identity management.
The Benefits of Self-Sovereign Identity (SSI)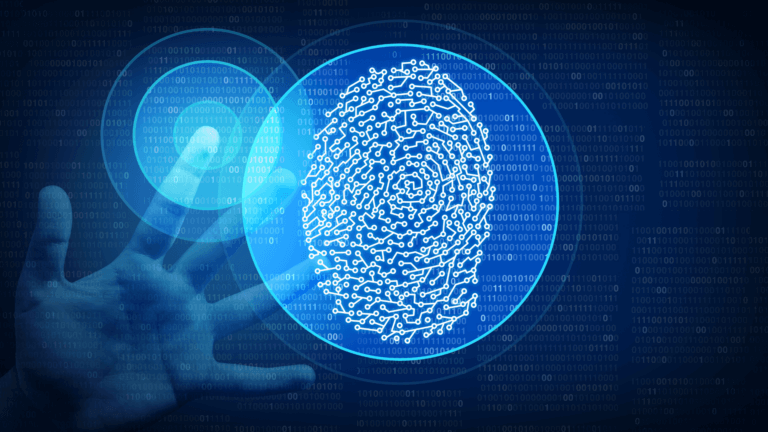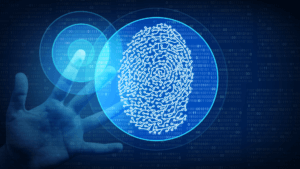 American Association of Retired Persons (AARP) released a report about the victims of identity theft losing over $50 billion in 2021. Thousands of credit/debit cards were compromised, and personal information was stolen from millions of people. The Federal Trade Commission (FTC) also published some identity theft cases based on reports lodged by consumers.
Many signs indicate the need to migrate to a more secure identity system urgently. With SSI, users have more control over their online identity and credentials, keeping their data away from bad actors. The advantages of SSI extend beyond individuals; organizations and developers can also enjoy the benefits. The following are a few SSI benefits:
Individuals
1. Neither your personal data nor your online footprint resides on a centralized server.
2. You have complete control and ownership of your identity without relying on a third party.
3. Digital wallets allow you to own your decentralized identifiers (DIDs) and fully manage your data.
4. The data you share and with whom you share it is your decision, and you can remove an entity's access at any time.
5. Users can share only the required information with a service. Such as proof of name, which prevents the sharing of unnecessary data. This keeps private details like your address and age hidden from the company or person asking for them. Previously, sharing such information would have been unavoidable when using an international passport, medical card, or student ID.
6. You can log in to websites and apps using your digital wallet through SSI. This means you won't have to memorize passwords for multiple apps and websites. Using similar passwords across multiple websites protects you from easy hacks.
Organizations
1. Credentials can easily be issued, fast and simple.
2. Reduced inefficiency and costs of credentials issuance and verification. Credentials can now be verified instantly instead of taking days or weeks. This reduces the human resources needed, resulting in cost savings.
3. Created credentials are more secure and fraud-proof through public key cryptography.
4. Credentials can be verified regardless of whether the issuer is still active or no longer exists online.
Developers
1. Developers can build apps that rely on SSI-powered digital wallets for login, thus eliminating the need for passwords and giving users faster access and a better experience.
2. Eliminating inefficient two-factor authentication methods such as text or email.
3. Selective identity disclosure technology can keep digital identities private and controlled.
4. Users can directly fetch or request data instead of going through third parties.
5. The ID issuer, the ID owner, and the verifier of the ID can exchange data securely through a peer-to-peer channel. This way, even the SSI system provider does not know what data is being exchanged.
The Three Participants of an SSI System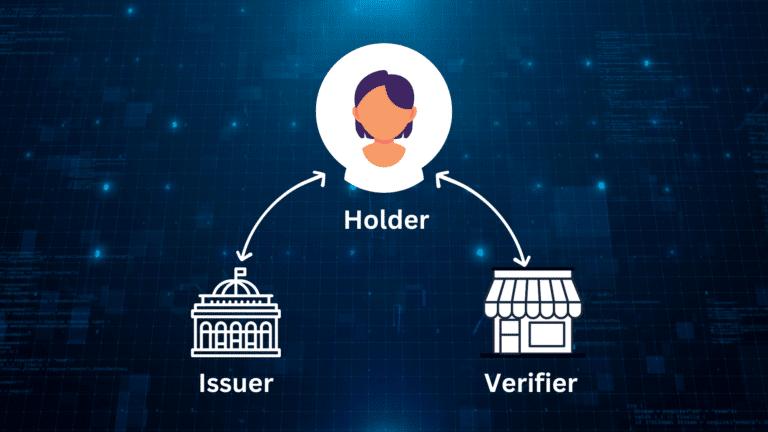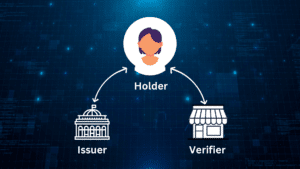 SSI system consists of three parties that make a credential credible and valid, just as it is in traditional credential issuance and presentation. For example, a university issues a result for a graduating student, who then presents it to a company for a job application. The traditional process involves three parties: the university, the student, and the company that wants to hire the graduate. The issuer, the holder, and the verifier respectively represent these three participants. In the Verifiable Credential Ecosystem, the three participants of SSI are the "Trust Triangle".
The Issuer

— The organization or authorized individual that issues a credential to a user is called the

issuer

. This entity can be a university, high school, healthcare center, government agency, bank, or individual.



The Holder

— The receiver of the credential issued by the issuer is the second participant of the SSI system. Using the earlier illustration given above, each student that receives the certificate issued by the University is a

holder

(i.e., the owner, the user). Holders have complete control over who they share their credentials with. The user has the ability to revoke access to any group with whom the credential was previously shared.



The Verifier

— This entity or organization receives the credential after a request from the holder, and they instantly make a verification request to the issuer. Checks are done right away, without the need for a phone call or email to the organization that gave out the information.
The Function Digital Wallet
Blockchain-powered digital wallets serve as secure and decentralized storage for users' identities and verifiable credentials. As opposed to centralized identity management systems that send credentials to users' email addresses or tell them to download the PDF version. Users' credentials are stored in digital wallets, completely under their control. With digital wallets, users have their credentials at their fingertips. They don't have to worry about the credential's security or losing it.
Also, when ID checkers ask for IDs, information, or proof, they send the request to the digital wallet. The user can then choose to accept or deny this request. The digital wallet also allows users to access websites and apps without multiple logins and passwords.
Ten Principles of Self-Sovereign Identity 
In 2016, Christopher Allen wrote about Self-Sovereign Identity with a list of guiding principles to which any SSI system must adhere. A quick summary of these principles is listed below in support of  all you've read above:
1. Existence 
Users must have an independent existence; that is, the digital identity should and must result from a physical entity or individual.

2. Control
The management of the identity must be under the control of users, not a third party or an affiliate. The user must have ultimate control over the level of access the requesting entity (verifier) has.

3. Access
Users must always have access to their data. Identities under a federated identity management system rely on third-party service providers who can delete them anytime or block user access. This highlights the importance of protecting user data and ensuring they have control over their identity.

4. Transparency
The SSI identity management network used to serve users must be transparent. The algorithm is open-source so that anyone can view and examine its operation, management, and updates.

5. Longevity
Identities must be persistent, long-lived, and preferably permanent. If a permanent identity isn't possible, the life of the identity should depend on the owner's choice, not the decisions of the SSI identity network.
6. Portability
Identities must be transportable, i.e., information and services about identities must be portable. The system should incorporate the capability to transfer one's details to another SSI service provider seamlessly, ensuring no data loss. This further emphasizes the importance of ensuring that users' identities and data aren't subject to third parties.
7. Interoperability
Users' identities must operate in a "plug and play" manner, meaning identities should be as widely usable as possible. Regarding technology, it is essential to ensure that identities are interplatform in their operation and that they're usable across border (internationally).

8. Consent
Users must agree to the sharing of their identities. The primary purpose of collecting a user data in a wallet is to share it with requesting parties. With growing interoperability of identity platforms, identity sharing across borders, apps, and platforms will surge. Therefore, every sharing action must secure the user's consent.

9. Minimalization
Users must disclose only the necessary data. When confirming national identity, ensure not to display the house address, etc. Disclose users' data strictly based on specific needs or requests.
10. Protection
Users' rights should always receive protection. Regardless of any conflict between the identity network and the users, the right of users to their data should always remain safeguarded.
Conclusion
With Web 2.0, data mismanagement got worse for users, but many developments and protocols are presently changing this. Among them is Self-Sovereign Identity (SSI). As a result of SSI, social interaction will be revolutionized, and internet-based marketing platforms will have their business model disrupted. Sadly, this isn't good news for the tech giants. Fortunately, it favors the end users in the identity management ecosystem this time. Let the revolution begin!
Identity.com
The SSI approach to identity management aligns with what Identity.com represents. One of our pursuits is a user-centric internet, where users have control over their data. More reason why Identity.com doesn't take the back seat in contributing to this future via identity management systems and protocols. We also belong to the World Wide Web Consortium (W3C), the standards body for the World Wide Web.
The work of Identity.com as a future-oriented company is helping many businesses by giving their customers a hassle-free identity verification process. Identity.com is an open-source ecosystem providing access to on-chain and secure identity verification. Our solutions improve the user experience and reduce onboarding friction through reusable and interoperable Gateway Passes. Please get in touch or visit our FAQs page for more info about how we can help you with identity verification and general KYC processes.